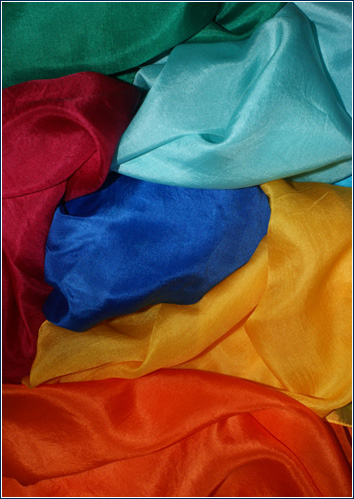 Sometimes called Colour Healing, uses the various vibrations of the different colours within the electromagnetic spectrum to balance the Chakras (energy centres) and Aura (energy field).
Colour plays an important role in our lives even if we are not usually aware of it. A lack of colour can make us feel 'low' or despondent.
Colour therapy allows us to experience colour in a new way and may also encourage us to bring more colour into our everyday lives, helping to lift our mood and raise our energy levels.
Vibrational changes within the body can have a positive effect on various symptoms, physical, mental or emotional.
I use pure silk fabrics in a wide range of colours during a treatment.
You may also find it useful to read:
Complementary Therapy Frequently Asked Questions
Contra-indications
Vibrational Medicine
Choosing a Complementary Therapist
Session: 1 hour
Investment: £35.00
 Photograph by RowanOak Creative