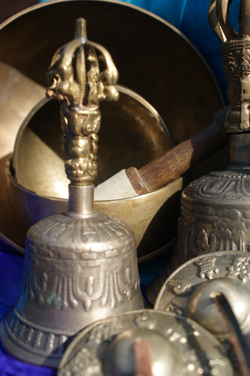 Uses Tibetan bowls, bells, tingshas etc to create a wall of sound around the human body enabling the client to experience a vibrational energy change often resulting in a sense of wellbeing and renewed vigour.
Sound therapy is said to help you move 'out of a rut' since it gently vibrates the entire body allowing the cells to settle into 'a new life'.
It helps clear the Aura (energy field) and Chakras (energy centres) of any unhelpful energy and promotes a sense of peace.
It can be beneficial for pain, especially if caused by injury.

You may also find it useful to read:
Complementary Therapy Frequently Asked Questions
Contra-indications
Vibrational Medicine
Choosing a Complementary Therapist
Session: 1 hour
Investment: £35.00
 photograph by RowanOak Creative